---
Washington Business Journal
May 13, 2015
WBJ: It's official: Major national retailer inks deal for Rosslyn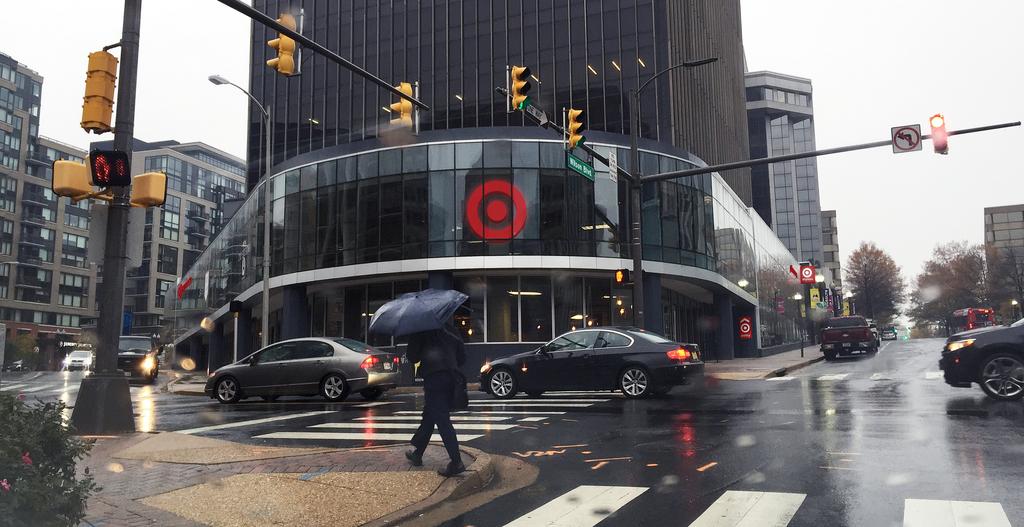 Minneapolis-based Target Corp. will open a smaller-format TargetExpress store in Arlington's Rosslyn neighborhood, a prospect we first reported in January.
The 23,000-square-foot store will open at 1500 Wilson Blvd. on a major corner where Clarendon and Wilson boulevards converge in the heart of the neighborhood. Landlord Penzance Properties LLC and Target (NYSE: TGT) confirmed the deal Wednesday.
The store will occupy a highly visible glass-enclosed portion of building overlooking the spot where Wilson and Clarendon boulevards converge. Penzance renovated the building recently after losing tenants as part of the base realignment and closure process. It also has signed Capriotti's Sandwich Shop and District Taco for smaller leases there.
Penzance has also signed a lease for a Wells Fargo bank branch on the Clarendon Boulevard side of the building, next to where District Taco will go, said Matt Pacinelli, senior vice president for Penzance. That branch will move from its current location at 1300 Wilson Blvd. District Taco aims to open this fall and Wells Fargo aims to open early next year.
One more retail space of about 3,000 square feet, next to Capriotti's on the Wilson Boulevard side, is still available.
Penzance had been marketing the Target space simultaneously as office and retail, and the landlord was pleased to see interest from such a high-profile retailer at the site, Pacinelli said.
TargetExpress stores are convenience-focused retail outlets that are much smaller than a traditional Target store. They typically focus on prepared foods, household items, health and beauty products and basic groceries.
The Rosslyn store will have a pharmacy, and in-store Starbucks, and carry basic groceries as well as grab-and-go, prepared foods including sandwiches, salads and breakfast items. It will also have a Target Mobile counter for phone purchases, and a tech section selling tablets, cameras and mobile phone accessories.
The convenience-focused model doesn't completely cut out that Target impulse-shopping experience, however. TargetExpress in Rosslyn will carry some apparel as well as home goods and decor.
"We want you to come in and grab milk and your prescription, but we also to give guests that real Target experience, where you see a new iPhone case you like, or some placemats you want for your upcoming dinner party," said Erika Winkels, Target spokeswoman. The offerings may change as the company gets a feel for what's needed in the neighborhood, she added.
Target, which has been expanding its new format rapidly on the East Coast in the past year, signed a deal for a TargetExpress in College Park in March. It will be a race to see which opens first; both the Rosslyn and College Park stores are slated to open this fall.
The arrival of TargetExpress will fill a void in Rosslyn, which has long suffered from a lack of amenities and dining options even as thousands of new residential units have come online. A small Safeway store desperately in need of updating is the only grocery option in the neighborhood.
Arlington County has finalized a new plan that officials hope will transform Rosslyn from a mostly office-oriented area to a vibrant live-work community.
Read Full Article Here.